October Stats | Issue 179 Guelph Weekly Sales Report
November 8, 2019 Sales Summary:
OCTOBER STATS
It is interesting to be able to look back and review how the Guelph market has performed year over year. Early last November we attended the Canada Mortgage and Housing Corporation (CMHC) Ontario Economic and Housing Update in Kitchener, ON. (They are scheduled to do a similar report later this month for this year, stay tuned for that). You can read last year's post below.
Issue 127 Guelph Weekly Sales Report
CMHC was relatively pessimistic and cautious about continued growth prospects for the housing market locally and nationally. You can see a PDF of the slide deck below.
2018 Ontario Economic and Housing Update
The interesting conclusions on the plus side was that Eastern Ontario and the communities outside the GTA would continue to outperform the rest of the province and in particular the GTA. Ottawa this year has been on fire, and our area has indeed continued to substantially outperform the GTA. Our latest monthly stats report is available below.
The CMHC Economist was rather pessimistic last year, expecting interest rate increases and that the real estate market would continue to be less of an influence on the Ontario economy. The were correct in predicting that affordability would still be an issue and that low inventory levels would continue to challenge the market.
What they couldn't predict or foresee was the intensification of the US/China trade war and the delayed ratification of the USMC trade deal. This should have been a major blow to the US economy which incredibly kept ticking along and today yet again is still setting records.
Last year according to CMHC's report we were 10 innings into a 9 inning economic cycle. Today, we're 11 and possibly 12 innings into the game, and I'm certainly not sure any longer when it will end.
My conclusion is that our market will likely continue moving forward throughout the next 12 months until we see what happens politically in the US. Will the leadership vacuum continue to expand, possibly for another 4 years, or will the US step back into a leadership role and bring some certainty to the world economy. The crystal ball is quite foggy and life will certainly be interesting for the foreseeable future. I'm certain there will be opportunities for those prepared to step up and take some risk.
This past week in Guelph we had 52 homes sold an 18% increase of 2018 results of 44 and better than the 50 homes sold in 2017. Clearly the Guelph market remains steady and in growth mode.
Of the 52 homes sold last week 16 or 31% of them sold at or above list price, down slightly from the 34% that sold above list price in the previous year. While this is one of the "lowest" weeks this year for over list sales, it's not surprising given the time of year and that inventory levels have dropped yet again.
The median home sold last week was a 3 bed 2 bath 1356 square foot home and sold for $520,000 or $365.68/sqft. That home took 19 days 17% faster than last year and buyers were able to negotiate 98.63% of their original list price.
Strong and steady results that reflect continued strength in our local economy and of course the region.
That's the kind of week it's been in the Guelph and area real estate market.
Enjoy the early November weather & thanks for reading.
October reports for Guelph, Centre Wellington, Kitchener, Waterloo, and Cambridge are now available.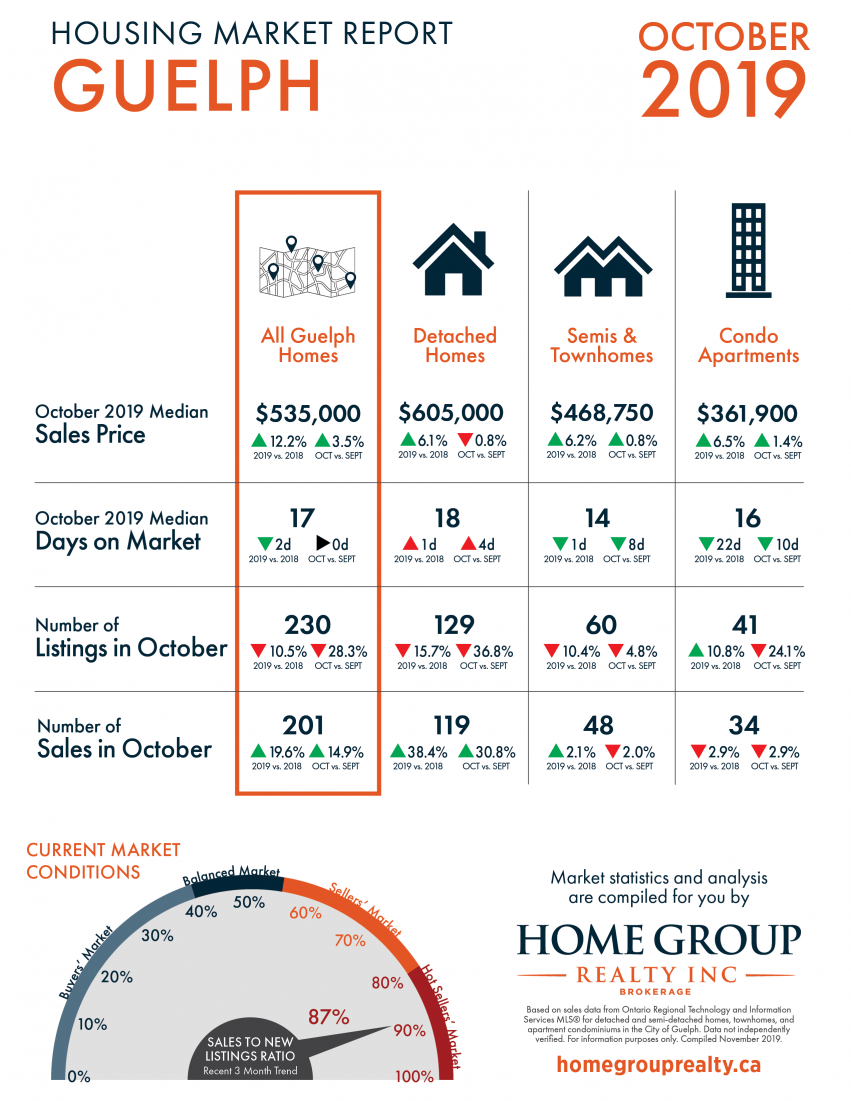 GET EXCLUSIVE ACCESS TO LISTINGS BEFORE THEY HIT THE MARKET
Don't miss out on your dream home because someone else saw it first
Thanks for subscribing!
We'll send you an exclusive list of properties not yet on the market, every Wednesday afternoon.
See the Most Recent Report