The Guelph Market, in a National Perspective
I believe I can say with confidence that our spring market has finally arrived! 70 homes were reported sold in Guelph and the two surrounding townships last week, which is almost 21% increase over the same week last year. When I write these reports, I'll often look back at last year's content to see how we compare to that period and now that we've been at this for a few years I can even look back at the report from 2017. That year we reported 65 homes being sold. Looking back over the past 3 years gives me an indication that we could be in for a good spring given the strong sales so far.
It'll be interesting to report next week what the month of April stats review is like. Inventory levels should be up significantly, which is reflected in the strong sales so far this spring. Details next week once the numbers are available.
More on that in a moment.
Once again, by the time you read this, I'll be on a flight back from Halifax where I just finished meeting with some of the top Independent brokers and brokerage owners from across the country.
This group of brokers represent over 300 Realtors across the country and in every major market. We meet annually share a lot of ideas and information, hear from industry, government, and business experts from across North America. Once again, I'm heading home with a head full of information and ideas that will help our brokerage provide better service and strategies for our clients.
When we gather at these annual events, last year Ottawa and this year Halifax, we update each other on our local market conditions and compare our markets with what the economists from government and industry will report to us.
The experts are reporting that we can expect moderate growth this year and average to slightly below average activity. These reports are generalized to the provincial level with some detail pulled from the major markets in those provinces. As expected, they show BC and in particular Vancouver as slowing down and dropping in value.
What they can't and don't show is how even in a diminishing market such as Vancouver there are pockets showing strength and growth.
Here in Ontario and more particularly in Guelph we are out-performing the market expectations and continue to demonstrate a strong seller's market and overall very healthy economic conditions.
In addition to talking about market conditions across the country as a group, we share a lot of marketing ideas and work to help each other enhance and grow our brokerages.
Our clients can expect us to continue to be a market leader in video and online marketing in the Guelph area as we've learned about new products and methods that can give our listings better and more targeted exposure to the people that are most interested in real estate. The win-win here is that our marketing budget is more efficient at putting properties in front of active buyers and presenting them with the type of homes they are searching for. This way we don't clog up their email inbox with unwanted and non-specific emails. Our sellers love this because we make sure the right eyeballs are looking at these homes.
Expect even more video marketing from us as buyers and sellers spend more time consuming this kind of real estate data and marketing.
The buyers and sellers in our market place will find that with the right agent and brokerage their real estate experience will only get better and better. The catch? As a consumer, you will have to become better educated on what questions or services to ask your Realtor®. Real estate is an industry with very low entry requirements. That means it's easy to get in the business and as a result we have over 700 agents licensed in Wellington County. Not all of the agents will deliver or perform at high levels. It will be incumbent on consumers to ask a lot of questions about what your agent will provide and do for you.
What you can expect from your Home Group Realty agents is a lot of education, dedicated research, cutting edge marketing tools, and constant communication.
I'm excited for the Guelph real estate market this spring and eager to get back and share with my team and our clients.
This week's results for Guelph Weekly Sales:
70 Homes reported sold with 33 or 47% selling at or above list price. The median numbers look like this:
House size: 1341 sqft

Sale Price: $537,500 or $385.35/sqft

Time to sell: 13 Days, which includes time for conditions and due diligence to be completed.

Sales Price/List Price: Sellers were achieving 99.67% of their original list price.
Compared to the same week in 2018:
May 4, 2018 58 homes reported sold. 29 or 50% sold at or above list price. The median numbers:
House size:1382 sqft
Sale Price: $476,000 or $359.47/sqft
Time to sell: 10 days
Sales Price/List Price: 99.79% of original list price.
That's our report for this week. Thanks for reading!
Get exclusive access to

Detailed Neighbourhood Sales Reports every week
We respect your inbox. We only send interesting and relevant emails.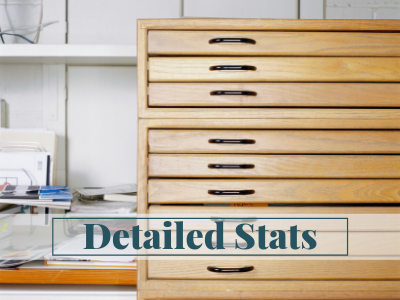 Welcome to the Market Report Blog
Thanks for signing up! Every Friday we'll let you know the blog is live, and you'll get exclusive access to detailed neighbourhood sales reports.
See the Archived Reports