Revving the Engine
It's been a busy week in the Guelph real estate market by all indications. 98 homes were listed in Guelph and the surrounding townships. Couple that with 68 properties being sold in the same area and that makes for some long days and evenings in the real estate world. I'm pretty sure no one is complaining though!
Last week we noted that the market has been lagging somewhat and surmised that a big part of it was likely weather related. We've had too many grey and wet days. I also suspect that a good part of the market was waiting for a few more for sale signs to start poking out of the ground. That certainly happened last week with those 98 new listings. Based upon the number of new listings our team is currently working to bring to the market, I expect the market will keep moving at a quick pace.
Our firm usually takes 7 to 14 days to bring a home to the market. We don't believe in rushing something as valuable as your home to the market without ensuring we have everything organized and the house is "show" ready. Over the years I've been selling, I could never understand why a sales representative would have a homeowner sign a listing and then rush back to the office to have it put into the MLS® system within hours - the majority of the time without photos, or at least proper ones, and all the details. You get one opportunity to make a great first impression. In today's market, with everyone searching online and humans being as visual as we are, I don't get the rush.
The Guelph real estate board historically has averaged over 300 new listings per month coming onto the market. Putting a home on the market without proper preparation or marketing materials puts the homeowner at a disadvantage because prospective buyers expect to have access to all the information when that listing hits the market. Missing or bad photos and data means potential buyers just move on to the next listing and likely not to return.
Knowing the lead time to bring new listings to the market I am anticipating that the full rush of our spring market is only just started. It appears that everything is running a little late this year.
The good news is that inventory levels are finally on the rise and with more selection we should start to see more activity in the marketplace. I suspect there are still a fair number of people sitting on the sidelines waiting to have more homes to choose from.
Our months of inventory for GDAR is now over 2 months and as you can see by the chart, it's been a while since we've seen levels over 2 months for a sustained period:
Buying or selling in the Guelph real estate market means being prepared, flexible and quick to react. It's a healthy market and things move at a rapid pace. Do your research, not only on the neighbourhoods and homes you want, but the Realtor® you want to work with as well.
We welcome your questions!
The week in review can be viewed in the video below or as follows:
68 homes sold last week and the median house look like this:
3 beds, 2 baths, 1467 sq.ft. It was listed for $545, 000 and sold for $542,250 or 98.8% of list price. It took 13 days to sell from going active on the MLS® system to being reported sold.
Enjoy the Victoria Day long weekend!
Paul
Get exclusive access to

Detailed Neighbourhood Sales Reports every week
We respect your inbox. We only send interesting and relevant emails.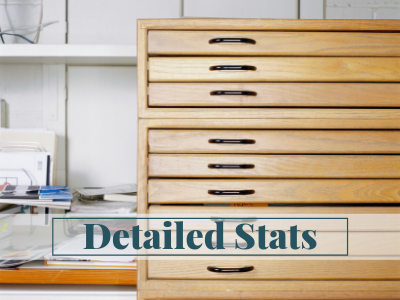 Welcome to the Market Report Blog
Thanks for signing up! Every Friday we'll let you know the blog is live, and you'll get exclusive access to detailed neighbourhood sales reports.
See the Archived Reports