Lift Off to Spring
There has been a palpable change in the energy level throughout our brokerage the past couple of weeks. Call it spring fever and it's a welcome change!
The emails, phone calls and client meetings have increased dramatically. That can mean only one thing; the spring market is revving up and we are anticipating some serious action over the coming months.
More on that in a moment.
There have been some significant changes in our local MLS® system this month. A couple of years ago a number of real estate boards including the three in the immediate area agreed to amalgamate their MLS® systems under one programme. The Matrix programme, as it is called, has grown to include 8 different real estate boards. This means local Realtors can access through our MLS® system properties for sale from Niagara Falls to Barrie, excluding Toronto (they are on a different system). The good news is we have access to a ton of information for Southern Ontario real estate which is beneficial to our clients. It also gives us access to a treasure trove of statistics.
Access to all this information means an incredible amount of mobility for agents to trade in different areas. That can be a double edged sword in that a little bit of knowledge can make a transaction risky. We've coached our team that if they are going to trade outside their home board (Guelph), they have an obligation to ensure they can properly educate and represent their clients in the areas they are trading in. This goes beyond merely having MLS® listing data access. It also means understanding the trends, pricing and characteristics of those areas.
We've seen an increase in the number of outside Realtors listing homes and representing buyers in our market, and I'm certain this is true in other municipalities as well. As a consumer, make sure you ask the Realtor you are going to work with that they have access to the information, MLS® data and more, that you will need to make educated decisions with.
The additional access we now have means we can add perspective to what is happening in the Guelph real estate market. For months now we have tracked where prices have gone in Guelph weekly, monthly and annually. Now we'll start comparing our results with our neighbouring communities. The accompanying links show how Guelph is comparing to the Cambridge, Kitchener and Waterloo markets. Find charts showing the following key performance indicators (KPI's) such as Median Sales Price, Months of Supply of Homes for Sale, Number of Homes sold, Number of New MLS Listings, Number of Homes for Sale.
These indicators will be published live on our website and will be updated constantly. I'm excited to share these details with you as I believe it will add perspective to any real estate conversation and help people make better decisions.
Regional Median Sales Prices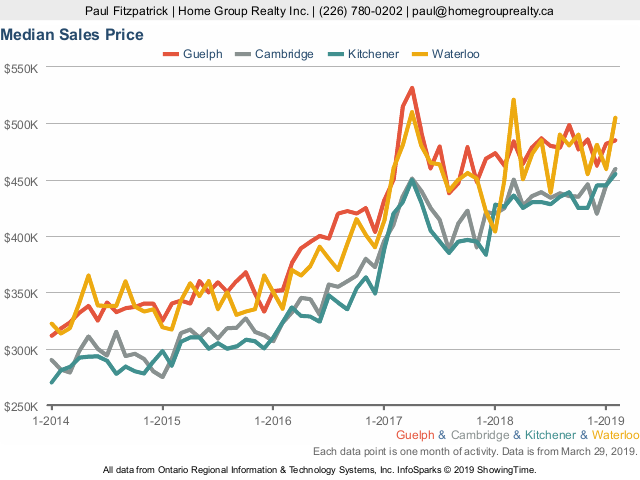 As an example, check out the Median Sales Price chart. Guelph year over year has had the median sales price of a home rise 4.9% to $485,000. For a homeowner, that's a great return! Or is it? Guelph saw the lowest percentage increase throughout the region which was lead by Waterloo at 12.2% followed by Cambridge 8.1% and Kitchener at 6.8% increases respectfully.
What does this mean? Is Guelph lagging growth in the area and if so why? Or is it that the other areas are finally starting to catch up to our levels of growth. In our opinion this is the regional market catching up to Guelph. We think that GTA buyers are now travelling further west down the 401 to find more affordability. That's something we will research in the coming weeks and report back to you on.
Back to the energy in our brokerage. February and March were slow months for our local real estate market. Our team out-performed our 2018 results by 48% so far this year. Numbers that have contributed to the buzz in our brokerage as our team has been hustling to ensure our clients get the results and experience they deserve.
This past week in Guelph. 44 homes were reported sold in the past seven days. That's a 13.6% increase over the same week in 2018. Not bad and hopefully a week that bodes well for April and the spring market.
The median numbers this past week look like this:
Size: 1433 square feet
Sale Price: $500,400 or $342.86/ sqft
DOM: 14 days
Sales Price/List Price: sellers were achieving 99.66% of their original list price.
Good numbers leading into this weekend.
Thanks for reading.
Get exclusive access to

Detailed Neighbourhood Sales Reports every week
We respect your inbox. We only send interesting and relevant emails.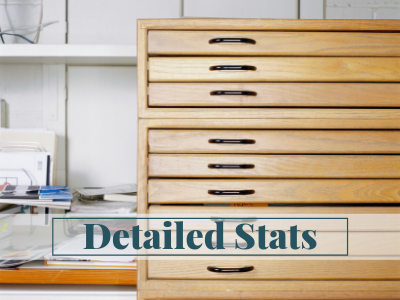 Welcome to the Market Report Blog
Thanks for signing up! Every Friday we'll let you know the blog is live, and you'll get exclusive access to detailed neighbourhood sales reports.
See the Detailed Sales Reports