The Roaring Twenties | Issue 190 Guelph Weekly Sales Report
THE ROARING TWENTIES
It's the end of January and surprisingly – or, maybe not – the market is on fire right now! Will it last? It's anybody's guess right now, but the conditions that have created this firestorm have been building for the last quarter.
I'll explain shortly.
First, let's follow up on last week's blog. We received a ton of feedback on our post about Purplebricks and their fake 5 star reviews. We were asked how that is allowed and what can be done to prevent this in the future.
It's clearly a violation of the terms of service with Facebook and Google, not to mention the code of ethics as set out by the Real Estate Council of Ontario, which regulates our profession. The challenge lies within why Google and Facebook try to push reviews and tend to not be as proactive with respect to false reviews. It is no secret that this is a game about driving traffic to their respective platforms and keeping people there.
Companies recognize the value of user-generated content, and personal testimonials are the gold standard when it comes to persuading consumers to support you product or service over similar companies in the marketplace. The motivation to game the review machine when your product or service is less than stellar is enormous, because positive reviews and testimonials will help drive revenue. It's short term thinking that creates a lose-lose every time. The consumer is duped by the false reviews and of course gets a less than desired experience. The validity of and ability to rely on reviews to make educated decisions is put in jeopardy, and a skeptical consumer becomes more reluctant to do business within the industry.
Back to real estate.
We've been talking all month about how busy the market has been this year, and you are likely wondering what's driving the Guelph real estate market right now.
It's a combination of several factors, the biggest one being a lack of inventory. 206 properties were listed within the City of Guelph in the last 31 days. 141 listings sold within the same time period. Go back to October 2019, 230 homes listed, 202 sold. November 156 listed, 168 sold. December 74 listed, 100 sold. Over the past four months, there have been 666 properties listed in Guelph and 611 sold – that's a sales to new listing rate of 91.74%! With the market this active, buyers are watching the market like a hawk in order to stay in the fight.
Smart buyers have committed to a good agent that is actively digging to find homes before they come to the market. Buyers relying on Realtor.ca don't realize that there could be a 12-36 hour delay in the listings appearing on that site. That's a huge disadvantage! Smart buyers committed to a Realtor are getting search results in real time. That 12 hour head start in this market is almost insurmountable.
We've written about listing early this year in past columns. This wasn't a self serving comment. We recognized that inventory levels were getting extremely low in Guelph. Smart sellers are advancing their timelines and taking advantage of these market conditions. When you've got a 63% chance of getting into multiple offers on your home, it makes sense to get in early.
Want to talk strategy and what the right move for your situation is? Talk to the team at Home Group. You'll get the right advice that makes sense to you and your family.
THIS WEEK IN THE GUELPH REAL ESTATE MARKET:
Another exciting one in the Guelph real estate market. 40 homes were reported sold, which is consistent with the past 2 years of sales history. The excitement starts with 25 of the 40 homes selling at or above list price. That's 62.5%! The market was once again on fire this past week.
The median home sold this week looked like the following:
3 bedroom, 2 bath, 1,245 square feet and sold for $494,000, or $392.93/sqft. That home took 11 days to sell with buyers getting 100% of their original list price. There were a lot of unhappy buyers this past week as a result of losing out in multiple offers. Hopefully February will bring an uptick in listings and help satiate some of this demand.
By comparison, the last week of 2019 saw 38 homes sell, with 39% selling at or above list price. The median home was 1,227 square feet and sold for $478,250, or $369.43/sqft. Last year's home sold in 11 days and seller's achieved 99.03% of their original list price.
Thank you for following our blog. Our subscribers get added value reports each week, where they see the actual sales reported in each neighbourhood.
If you are not a subscriber, get access to neighbourhood sales reports here

Enjoy the weekend and see you next Friday.
Annual reports for Guelph, Centre Wellington, Kitchener, Waterloo, Cambridge and more are now available.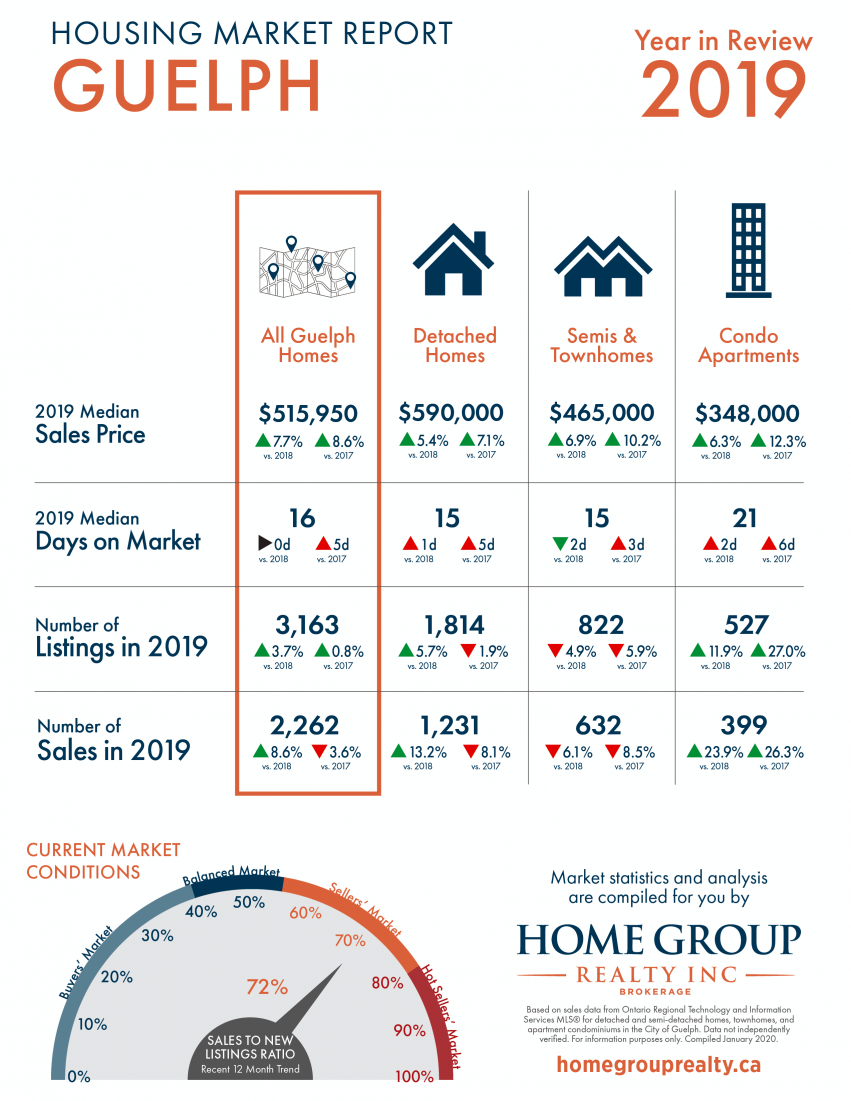 GET EXCLUSIVE ACCESS TO LISTINGS BEFORE THEY HIT THE MARKET
Don't miss out on your dream home because someone else saw it first
Thanks for subscribing!
We'll send you an exclusive list of properties not yet on the market, every Wednesday afternoon.
See the Most Recent Report