Fake Reviews | Issue 189 Guelph Weekly Sales Report
FAKE REVIEWS
A story published this week in Forbes reported that Purplebricks Canada offered employees paid days off for made up 5 Star Reviews on Facebook and Google.
In March of 2019, Purple Bricks, formerly known as Comfree, ran a contest within their brokerage to get friends and family members to write glowing reviews of the brokerage "whether or not" they were customers of Purplebricks. There were detailed instructions on how to game the system so they wouldn't violate the terms of use agreements with Facebook and Google.
This is wrong on so many levels.
Purplebricks promotes itself as a low cost alternative to the traditional real estate brokerage. They cater to a part of the market that wants a DIY model. The truth is, there's plenty of room in the market for that model. We're seeing it across industries – an influx of budget-friendly and DIY clothing, furniture and even restaurants, paired with an equally popular rise in high-end goods and services (in Guelph in particular, we've seen a massive trend of boutique cheese shops, eco-friendly household goods, and high end grocery stores, just to name a few). As a full service brokerage, we stand by the service that we offer, and we are happy to compete. I believe in a competitive market place. It keeps us on the top of our game and working to provide the best consumer experience possible.
Consumers, now more than ever, deserve choice. The choice between a full service real estate experience, and one that requires a little more work to a save a little money. There are a number of factors to consider when selling your home, and we always discuss our clients priorities with them before we set our marketing strategy. Some homeowners are willing to wait a bit longer and work a bit harder to receive a higher price for their home. Others prioritize convenience over everything else, and so the path of least resistance is taken. Opposite ends of the spectrum in terms of marketing approaches, but the same essential goal: SOLD.
"Budget" Brokerages boast a cheaper process to achieve the same results. But do they? Like many small businesses, agents and brokerages rely on referrals and reviews for their business, and likewise, consumers too rely on the recommendations of others when there is so much choice in the market. And herein lies the issue.
All real estate brokerages in Ontario, including Purplebricks, operate under a strict code of ethics around advertising and how we act with consumers. Soliciting and encouraging false reviews in order to get more business violates the code of ethics as well as advertising standards on many fronts.
Purplebricks is a registered real estate brokerage in Ontario and, quite frankly, their actions deserve the attention of our governing body, the Real Estate Council of Ontario (RECO).
Our brokerage and team members work hard everyday to earn the trust of our clients and provide them with a stellar real estate experience. We want consumers to have confidence in the reviews we receive and post, and when companies try to cheat the system, everyone ends up losing trust and credibility.
Purplebricks, and this example of what they were willing to do in order to grow their business, speaks volumes about the corners that people are willing to cut in order to gain an advantage. I look at this and think that if they are prepared to game the system to find a way to look better, how quickly will they cut corners or game the process when it comes to defending the value in the sale of your home?
THIS WEEK IN THE GUELPH REAL ESTATE MARKET:
Sit down, buckle up, and hang on – the ride today is pretty intense!
36 homes were reported sold this past week, 2 less than the same week in 2019 and 5 less than we reported sold in 2018. Not a big deal at this point. In 2018, 21 of the 41 (51%) listings that sold went at or above list price. In 2019 that number was 39%, as 15/38 homes that sold went at or above list price. This past week, 24 out of 36 homes sold (yes, 67%!) went at or above list price! Talk about flying out of the gate!
While we were going through the numbers over the last few years, we also found this interesting. Take a look at the median sales price per square foot for this same week in 2018, 2019 and 2020:

Over the past three years, the median house was virtually the same size, but the sales price per square foot has increased dramatically. Not new information by any means, but a great demonstration of our market conditions.
The median home sold this past week was a 3 bedroom, 2 bath, 1,230 square foot home with a median sales price of $508,000 or $393.74/sqft. That home took 11 days to sell and, as you would expect, the sellers received their list price and a bit more, 100.3% to be exact.
Last year was slow to get going. A lot of that was weather related and so far this year, our weather has been much more conducive to viewing homes. However, I believe there's more to the 2020 market than decent weather.
We've talked about this the past few weeks. Inventory levels and the number of new listings coming to the market has slowed and demand has actually been moving up. The exact conditions that, in any market, will drive competition and pricing. Interest rates haven't moved in almost a year, and we are starting to see wages increase. Sustained and growing confidence in the local and national economy is helping drive some of this demand as well.
I don't expect these conditions to persist at this level. I am hoping that homeowners, seeing that the demand is there, will accelerate their timelines and try to take advantage of current conditions and beat the bulk of the sellers to the market.
I also don't expect these conditions to pull back significantly either. What does that mean for buyers? They will have to compete for the quality homes, and those that hesitate won't be getting a lot of second chances.
If you're a homeowner, you still need a solid strategy and up to date market conditions. Top agents know how to analyze the data to predict where the market will be when you are ready.
Either way, working with professional, educated, and passionate REALTORS® (ahem, like the ones at Home Group Realty) will position you to best take advantage of these market conditions.
Enjoy the weekend.
Annual reports for Guelph, Centre Wellington, Kitchener, Waterloo, Cambridge and more are now available.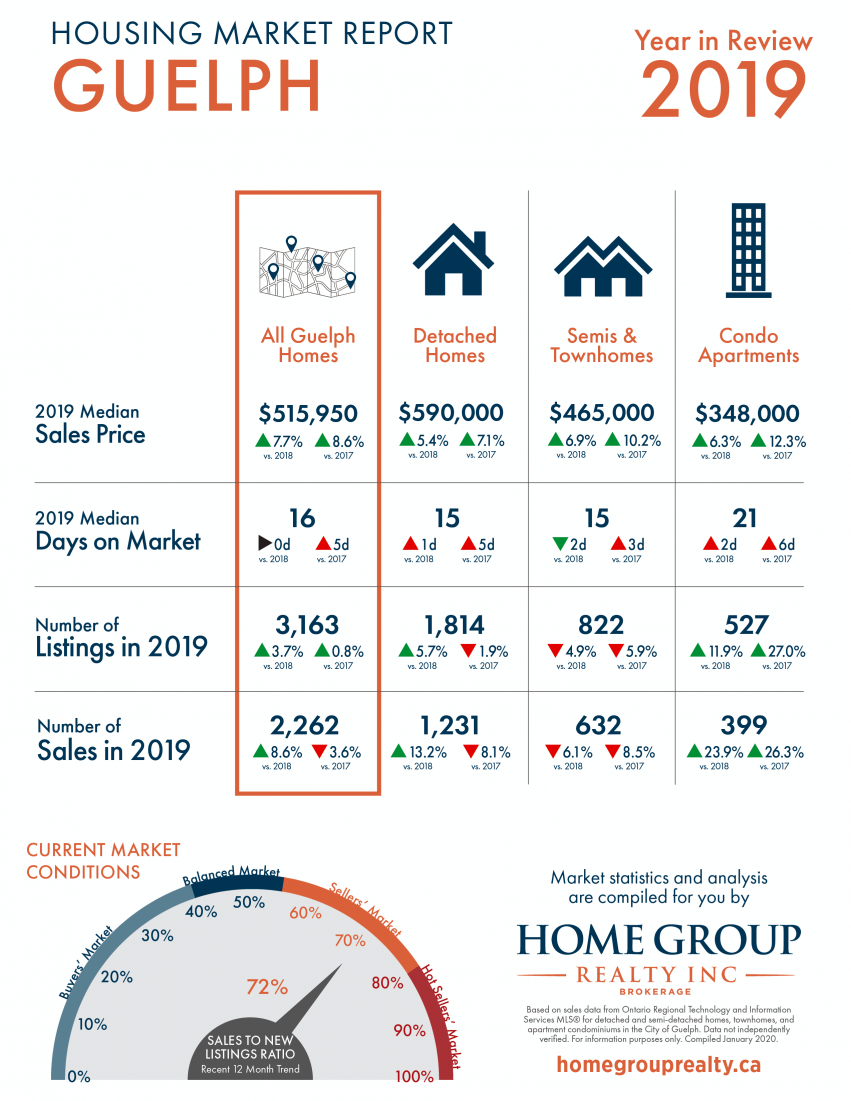 GET EXCLUSIVE ACCESS TO LISTINGS BEFORE THEY HIT THE MARKET
Don't miss out on your dream home because someone else saw it first
Thanks for subscribing!
We'll send you an exclusive list of properties not yet on the market, every Wednesday afternoon.
See the Most Recent Report