Predicting Growth in the Guelph Market | Issue 188 Guelph Weekly Sales Report
PREDICTING GROWTH IN THE GUELPH MARKET
I was out for a run this morning despite the cold. It is always wonderful to watch the sky lighten as dawn breaks. I was thinking about today's topic when I hit the corner of Wellington and Neeve and saw the construction crane, the new buildings, the park, and river all come together as a single scene. Not many years ago, it was a different picture altogether, and soon it will be a changed landscape once again. If you're following the local news in any capacity, you know that there are several large construction projects planned for the Downtown core – from the third phase of Fusion's MetalWorks condominiums, to the proposed tallest building in Guelph, and of course the City of Guelph's plan to move the Downtown Guelph Public Library. And while Downtown new construction is a hot topic across the city, this growth is certainly not isolated to this neighbourhood.
Guelph's real estate market seems poised for significant growth in 2020. We finished 2019 much stronger than we started in terms of sales, compared to the start of the year. This past week is a prime example of what I expect from the real estate market this year. We're reporting 32 homes sold this past week, up 10% from 2019 and 45% from 2018. The telling sign is in the number of properties selling at or above list, which this week was at 56.25% compared to 41.38% last year.
In one case, our Brokerage listed a home in the West end of the city that was expected to see a fair bit of activity, given a list price below $500K for a detached home. Despite the poor weather last weekend, the open house that weekend was full and the multiple offers presented on Monday reflected the high level of interest. 10 offers later and $30K over list, the house was sold. One example of a number of the properties that sold in multiples this past week.
My take on this? Buyers have been following their New Year's Resolutions to get back into home search mode. Now, I'm not predicting the return to the frenzy of the 2017 market. However, when I see this kind of interest this early in the year, it tells me market conditions are changing.
The Toronto market is showing similar activity and growth, which if you recall, has been somewhat sluggish since 2018. If that market is showing a major jump in activity early in the year, you can expect a spillover into our market as well. We could see a significant increase in the number of GTA buyers coming back this way.
One of the indicators I look at when trying to predict upcoming market conditions is the sales to new listings ratio. This ratio looks at how many new listings are coming into the market to replace the sales recorded that month. Under 100% means we're building inventory and will have plenty of homes for buyers to look at. It also means less pressure on prices and less competition for any one house. Ratios above 100, of course, means we're reducing inventory levels. Scarcity means increased competition and prices.
The sales to new listing ratio in December was at a whopping 135%, and our inventory level was down to 0.7 months of supply in the City of Guelph. December 2016, that same ratio was at 128%. Understandably, this is viewed as a bit of harbinger of what 2020 may have in store for the Guelph real estate market.
The Bank of Canada has already issued warnings that it's watching for "frothiness" in the real estate market, and you bet they will act quickly if they perceive this happening. That could look like speculation taxes or vacant property taxes designed to slow the market down.
Based upon the number of seller consultations we're doing at the moment, I do expect a significant increase in the new listings hitting the market in late February and early March. That will relieve some of the pressure. Hopefully we'll see a healthy increase of homes listed in order to satisfy the growing number of buyers in our market place.
HOW THE MARKET IS LOOKING AT THE END OF WEEK TWO:
32 homes were reported sold and the median home was a 3 bed, 2 bath, 1,225 square foot home. This median home is smaller than it has been in past weeks, and reflects the increasing popularity of townhomes and apartment-style condos selling in the Guelph market.
The median sales price was $476,500, or $388.77/sqft, and took 15 days to sell. Homeowners are getting 100% of their list price. Very impressive numbers for so early in the year. It will be interesting to see how long these strong numbers persist, and if they have room to grow.
Time, as they say, will tell.
We welcome your questions and comments.
Thanks for reading.
Annual reports for Guelph, Centre Wellington, Kitchener, Waterloo, Cambridge and more are now available.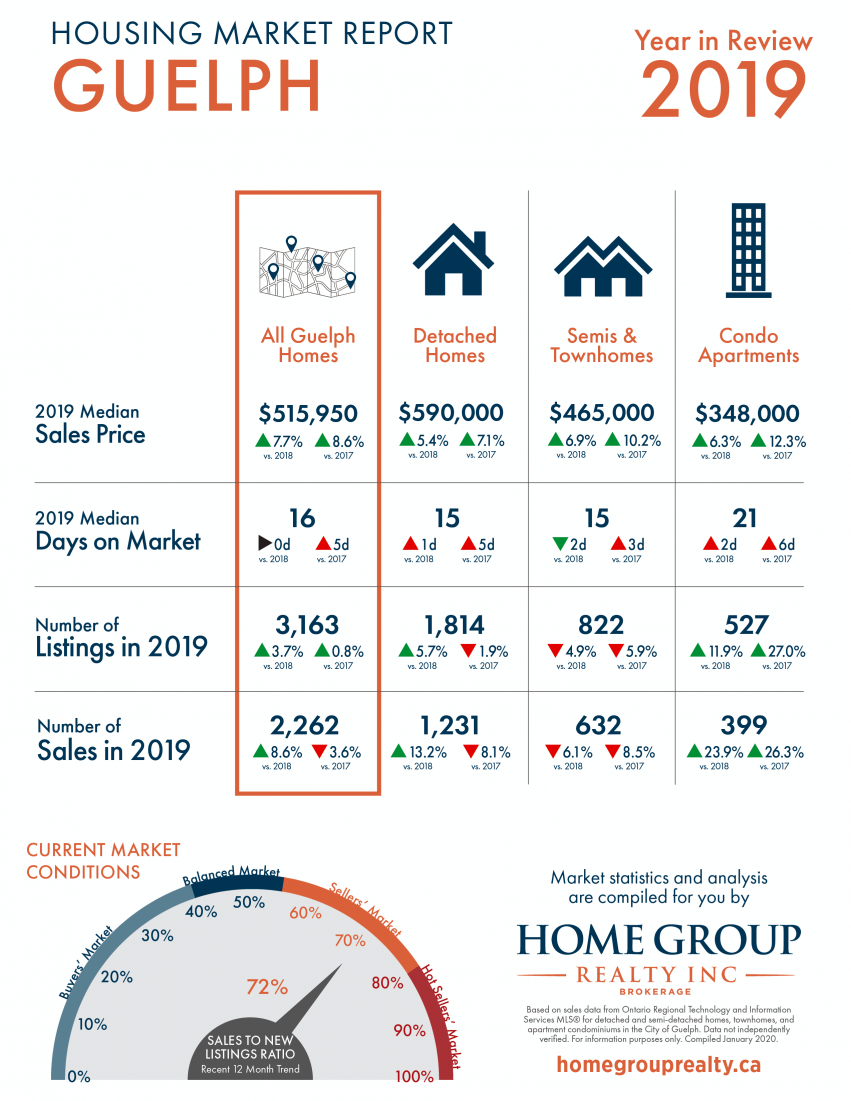 GET EXCLUSIVE ACCESS TO LISTINGS BEFORE THEY HIT THE MARKET
Don't miss out on your dream home because someone else saw it first
Thanks for subscribing!
We'll send you an exclusive list of properties not yet on the market, every Wednesday afternoon.
See the Most Recent Report