CONSISTENCY | Issue 187 Guelph Weekly Sales Report
CONSISTENCY
I was hoping to save this post for Groundhog Day.
I typically review the previous year's blog post before I start working on the current week's, and this week has me feeling like Bill Murray's character in the movie Groundhog Day. Our market for this time of the year has been virtually the same since 2018.
Late December and early January weekly sales have consistently been between 20 and 28 transactions. This week in 2018, 22 sales, 32% at or above list price. In 2019, 22 homes sold, 41% at or above list, and this past week, 27 sales with 48% selling at or above list price. While not identical, the consistency is remarkable.
For sellers, the nice part of this consistency has been the steady gain in pricing. The median price back in 2018 was $455,600, and this week $540,000. Days on market: 28 in 2018, 28 in 2019 and 20 days in 2020. That's a lot of 20's this early in the year!
In the Guelph real estate market, we like consistency. We like that consistency even more when its consistent growth, like the 18.5% year over year growth in median sales prices from 2018. You'd be hard pressed to get that kind of return in the stock market.
Here's what we wrote last year:
2019 hasn't exactly started with a bang and neither has it been a whimper. I'm going to call it a Goldilocks start.
Just right.
22 sales last week with 9 of them going at or above list price. Surprisingly, the sales count matches the same week last year with only 7 properties selling at or above list. Not too slow and not too busy. A good warm up to what we expect will be a busy spring.
The good news is that the Bank of Canada didn't raise the bank rate this week. The not so good news is that it didn't raise the rate because the bank is concerned about the economy slowing down. Between dropping energy prices, politics (say no more) and a significantly slowing Chinese economy, the year so far hasn't exactly got the world economy jumping for joy.
Am I worried? Not really. All the other macro indicators point to the southern Ontario and more importantly the Guelph real estate market remaining robust and healthy. Don't expect a return to the 2017 frenzy. That's not in the cards. What is still likely to happen will be a continuation of the relatively low inventory levels in the most popular price points. This will keep prices from dropping significantly.
There's still lots of opportunities for sellers to capitalize in this market. If you are considering a move this spring, now is the time to start that discussion and planning.
Most of last year's report is applicate to conditions as they exist today. Not much has changed. Interest rates have been stable and still very low. The Bank of Canada rate hasn't moved and is not likely to for most of this year. The political atmosphere, or circus, depending upon your perception, hasn't changed much either. We still have very low inventory rates, which accounts for the high number of sales at or above list price and continued growth in demand for homes in the City of Guelph and surrounding areas.
Our expectation is that the spring market will be even busier than 2019, which will be good for sellers that are able to downsize or upsize to less popular parts of the market. In other words, demand for homes between $450,000 and $750,000 will continue to outstrip supply, and we will continue to see a lot of competition for these homes. Over $750K, with more available homes, means pricing has to be ultra competitive to attract the fewer buyers available.
Our advice for sellers: having a proper marketing plan and a solid understanding of the market conditions will mean a favourable outcome. The brokerage and sales professionals that you chose to work with to market your home should be able to provide sound data on what homes are doing in your neighbourhood, and they should have a custom strategy for your home. The days of just pounding a sign in the lawn and relying on MLS® to sell are numbered. Sure, that tactic still works, it just means you'll likely be leaving money on the table.
A special shout out to Brenda and Ian, Theresa and Raul – long time readers of this blog and the sales reports. Chatting with you and getting your feedback on our content makes this weekly work worthwhile. Thanks to each and every one of you for subscribing, following along, and being part of the HGR world. If you have a specific topic you would like covered or a question answered, please let us know – this blog depends on your readership and we aim to bring you the most up-to-date and relevant real estate information possible.
If you missed the 2019 In Review market reports that came out last week, be sure to check them out below.
Enjoy the weekend.
Annual reports for Guelph, Centre Wellington, Kitchener, Waterloo, Cambridge and more are now available.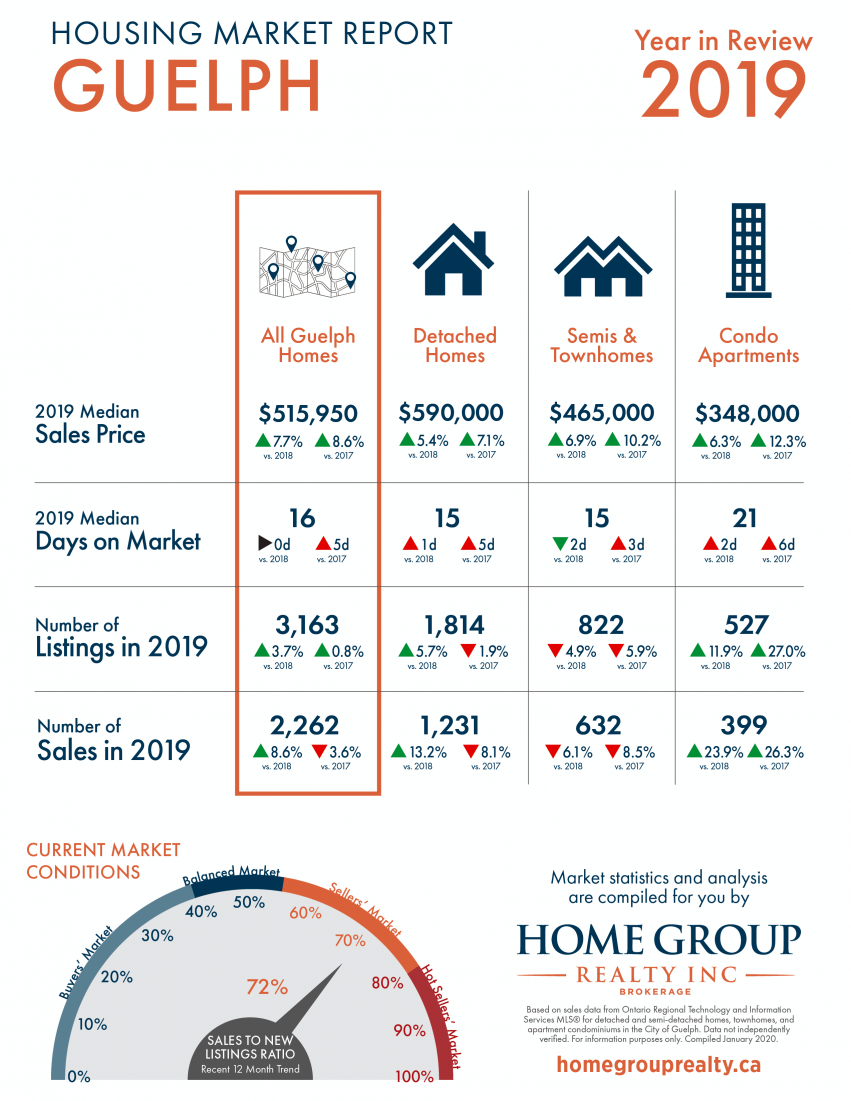 GET EXCLUSIVE ACCESS TO LISTINGS BEFORE THEY HIT THE MARKET
Don't miss out on your dream home because someone else saw it first
Thanks for subscribing!
We'll send you an exclusive list of properties not yet on the market, every Wednesday afternoon.
See the Most Recent Report