The Chicken and the Egg | Issue 191 Guelph Weekly Sales Report
TITLE
We're one month into 2020 and by now you're well aware that it's been an incredibly fast-paced start to the year in our local real estate market. We released our January Stats this week, and they certainly show an interesting month. You can see all of the January reports for Guelph, Centre Wellington, the Townships, and the Tri-Cities here:
Despite the buzz, we certainly didn't set records for units sold last week, with only 36 sales. On par with the same week in 2018 at 34 homes sold, and far behind last year's report of 49 homes sold. This isn't a sign of the market slowing down; in fact, the opposite. I suspect that there could have easily been another 20+ homes sold this past week if the inventory had been available.
Given 69% of the homes sold went at or above list price this past week, and the bulk of those homes had multiple offers registered, I would suggest that plenty of frustrated buyers likely would have bought if they had been given more homes to choose from.
January's sales were up 10.2% from the previous year, while new listings entering the market in January were down 20%.
Those two numbers mean the month of January saw a 35% reduction in the number of available homes for sale in Guelph! There was only one other month lower and you guessed it, January 2017 holds the record.
Where does this ride go?
It depends on how quickly sellers can mobilize, and get their home on the market to take advantage of current conditions.
We've been talking to our clients, past and current, who are waiting for March or April to list – but it may not make sense to wait until Spring, as the demand is here now. Agents in today's market have better prepared their buyer clients with pre-approvals and even doing inspections before offers, which means deals aren't likely to fall apart.
Part of the conundrum we face in this market is that sellers are reluctant to list if they haven't found a property to purchase. The classic chicken and egg problem in the real estate market. A fair concern, given the comments above. So, how does a homeowner take advantage of current conditions? There are two common solutions to this challenge.
Sell with a Long Closing

This is the easy answer. A closing date of 90+ days should give you plenty of time to find the right replacement home. Not just in your best interest, this condition is attractive to someone considering a move up. Typically their home will be appealing to entry level or downsizing buyers. Both can usually accommodate a long closing giving the homeowner time to find the next home.
Sellers Purchasing Condition
If you are familiar with a buyer's condition of "sale of property" – wherein the buyer will essential purchase your house if they can sell theirs in an agreed upon time frame – this is the same idea, but to the benefit of the seller instead. Essentially, the seller accepts a buyer's offer on their home, but on the condition that the seller can find a suitable home to purchase. Usually this route will give the seller about two weeks to find something, or satisfy the seller's confidence that they will be able to find a suitable home.
Of course, any strategy used has to match up with the risk tolerance of the client. If the thought of selling before buying means you won't sleep at night, then selling with a long closing may not work. While seller conditions can help negate the risk of having no where to live, they can also be tricky. A professional REALTOR® will take the time to understand your goals and analyze your risk tolerance in order to clearly advise the proper strategy.
We're in for some interesting and exciting times in the Guelph real estate market this year. If you are considering a move, make your first step the smart step and talk to a reputable REALTOR® about your plans. These are not the times to be experimenting with DIY marketing companies with hollow promises.
THIS WEEK IN THE GUELPH REAL ESTATE MARKET:
The median home sold was a 3 bedroom, 2 bath, 1,345 square foot home that sold for $561,500 (or $391.06/sqft). That home took 13 days to sell, including any time for conditions to be met. Sellers were able to negotiate 100.83% of their original list price. Very impressive numbers for the mid-winter selling season.
I'm traveling this week and won't be able to film our report. You can expect the video back next week. In the mean time, check out our January Stats Reports at the link below:
The Guelph Weekly Sales Reports, where we give you a look at the past week's sales in each neighbourhood, are available to subscribers only. To view the reports, hit the subscription button below to receive our weekly blog post and reports in your inbox.
Enjoy the reports and the weekend.
January reports for Guelph, Centre Wellington, Townships, Kitchener, Waterloo, Cambridge and more are now available.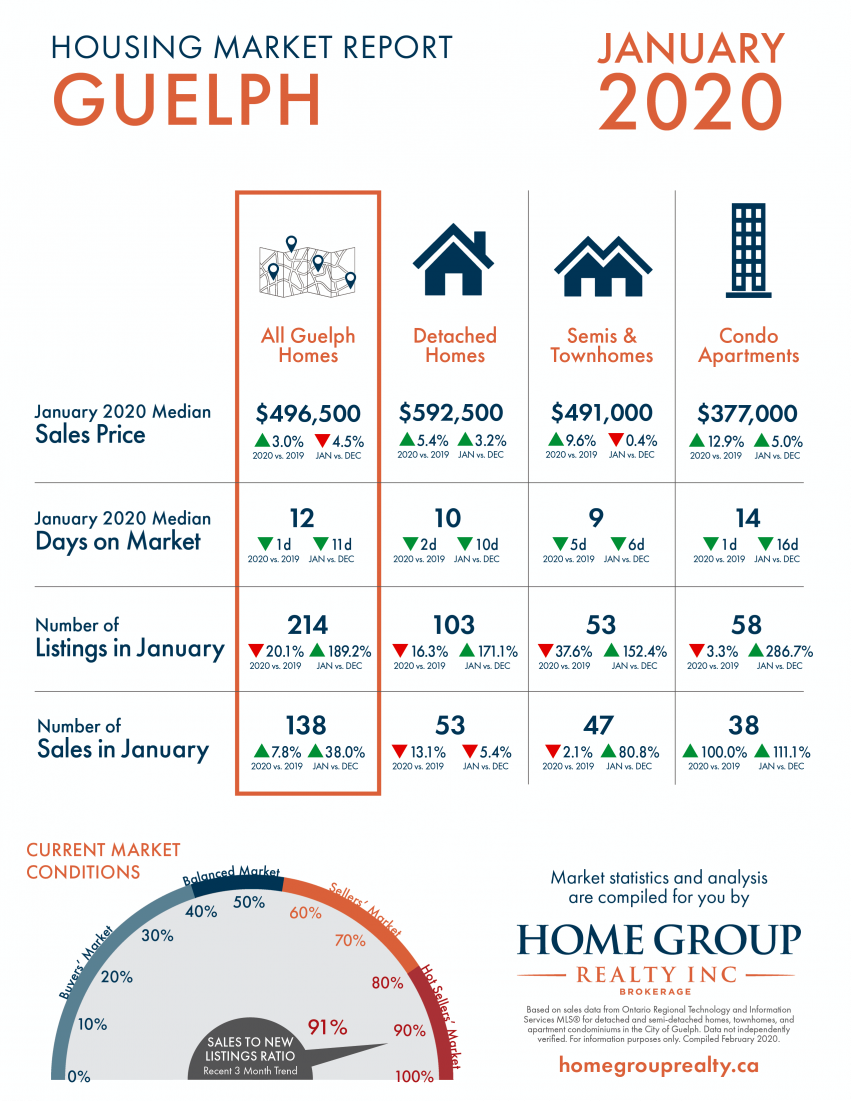 GET EXCLUSIVE ACCESS TO LISTINGS BEFORE THEY HIT THE MARKET
Don't miss out on your dream home because someone else saw it first
Thanks for subscribing!
We'll send you an exclusive list of properties not yet on the market, every Wednesday afternoon.
See the Most Recent Report