Valentine's Edition | Issue 192 Guelph Weekly Sales Report
Valentine's Edition
There are a lot of Valentine's real estate deals being put together this past week. 54 lucky new home buyers this week. A new house beats roses any way you count!
Another busy week in the Guelph and surrounding townships for real estate. An almost 29% increase over the same week in 2019. It was a busy past 2 weeks as we saw a number of new listings hit the market, and just as quickly get snapped up. 54% of the listings that sold this past week went at or above list price. Significantly more than in 2019 and in line with the previous 6 weeks of 2020.
The spring market is making an early and fast paced entry this year and I believe it's not going to slow much in the coming months. Will the early activity scare some buyers to the sidelines? Quite possibly. My take on this is that conditions have been strong, we still have a steady influx of buyers from outside our market and relative to the GTA our prices are still "reasonable". For those that do decide not to compete, that will take some of the competition out of the market, but not enough for it to stall.
The smart agents are educating their clients and are coming up with different strategies to minimize the competition for homes. Wise buyers have been shopping around, know the market conditions, and are choosing agents and brokerages that have demonstrated the ability to interpret the market conditions and have actual strategies to compete.
THIS WEEK IN THE GUELPH REAL ESTATE MARKET:
The last couple of weeks our reports showed a lot of smaller entry level homes selling. The median numbers had drifted down as the higher end market seemed to have stalled. That changed this past week with four homes selling over the million dollar mark and 17 or 31.5% of the total sales being over $700K. The median numbers are all up significantly this week as a result.
The Median house was a 3 bed, 2 bath 1,450 square feet and sold for $625,500 or $426.93/sqft. That's almost $35/sqft more than last week! This week's home took 14 days on the market to sell, consistent with the last 6 weeks. This big leap forward in sales price and price per square foot reflects the increasing number of larger homes selling this past week, more so than a huge price increase.
Current and ongoing conditions in the Guelph real estate market indicate the confidence in our economy locally and regionally. Don't expect the frustration in this market to abate any time soon.
Thanks for reading and enjoy the Family Day weekend!
January reports for Guelph, Centre Wellington, Townships, Kitchener, Waterloo, Cambridge and more are now available.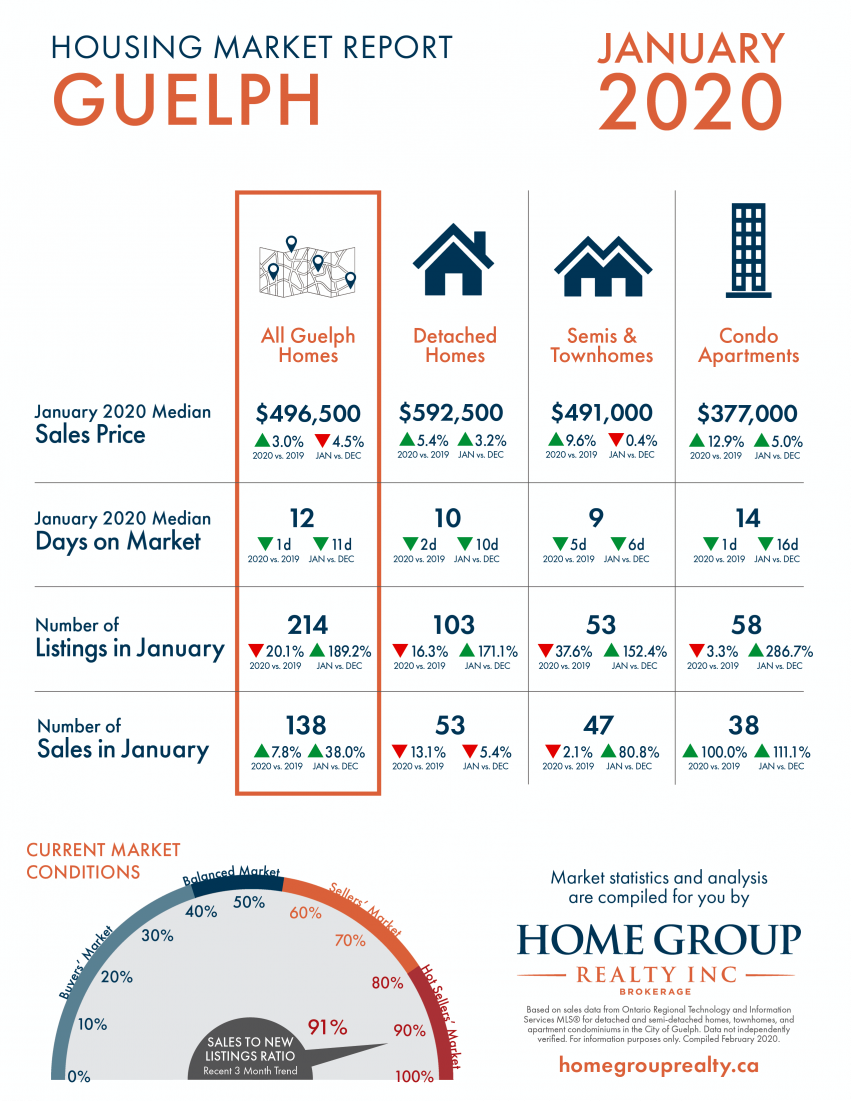 GET EXCLUSIVE ACCESS TO LISTINGS BEFORE THEY HIT THE MARKET
Don't miss out on your dream home because someone else saw it first
Thanks for subscribing!
We'll send you an exclusive list of properties not yet on the market, every Wednesday afternoon.
See the Most Recent Report