The Spring Market: A Balancing Act
It's amazing what a little sunshine and above zero temps will do for people's spirits!
The energy level in the office is up considerably and even watching folks stroll along there's a spring (pun intended) in people's steps.
The Guelph real estate market is showing some of that energy as well with 59 homes being reported sold last week. That's a whopping 68.57% increase over the same week in 2018! Pretty incredible increase yet only 77.63% of the homes sold the same week in 2017. That of course was the high water mark when the real estate market went absolutely insane. The accompanying chart shows the March sales in Guelph over the past 3 years broken down by property type. 2019 Detached results show a 5% decrease over 2018 and are only 55% of 2017 detached sales.
The one sector, no surprise here, is that condo sales have almost doubled since 2017. Is that due to a lack or inventory in detached or builders addressing places to grow legislation and building more condos?
The second chart shows the inventory level of homes for sale during the same period. While 2019 shows a massive increase over 2017 and a healthy increase over 2018 the number of homes available is still considered to be well below "normal". Who knows what normal is any more?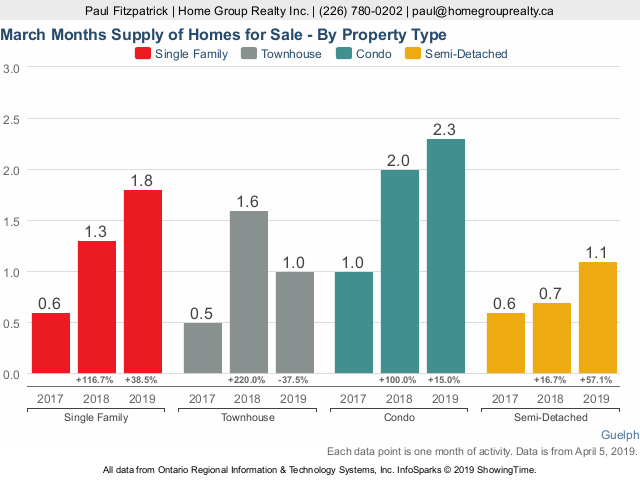 The healthiest segment is the condo market with 2.3 months of inventory. Still not considered balanced, but certainly closer to balanced ( 4-6 months) than any of the other segments.
The story here is that market conditions are improving and trending towards balance but still have some distance to go before Buyer's will be on a level playing ground.
Our prediction for April? The 11 year average for listings taken suggests we'll see 187 new listings hit the Guelph market this month. I'm anticipating a busy April and expect to see over 200 new listings in Guelph. Based upon lower than average activity over the past two months, mostly weather related, I suspect there are a number of people that have been biding their time before listing. We are also seeing more homeowners taking the time to prepare their homes for the market. An indication that real estate TV shows have had some influence. Realtors® have also stepped up their game and now better prepare their clients for the market. Home Group Realty agents have been coaching their sellers to take the advice of our staging and design professionals and as a result are not launching their homes onto the market before preparations are finished.
So far this month there have been 74 properties listed in Guelph. If this trend of 14 listings per day persists we will be well ahead of the normal average. I suspect this is the early rush and we'll see the number of daily listings drop to around 8-10 per day. Still, we are expecting a very strong month for listings coming onto the Guelph market.
That's the way I see the market shaping up for the spring of 2019. Stay tuned and we'll see how it goes!
Thanks for reading.
Get exclusive access to

Detailed Neighbourhood Sales Reports every week
We respect your inbox. We only send interesting and relevant emails.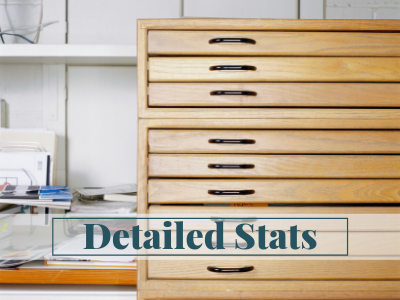 Welcome to the Market Report Blog
Thanks for signing up! Every Friday we'll let you know the blog is live, and you'll get exclusive access to detailed neighbourhood sales reports.
See the Detailed Sales Reports