Another week on the roller coaster!

April is winding down with a bit of a whimper. Sales this week are down just over 25% from the same week last year. The week after Easter tends to be the start of the spring market, and given this week's lacklustre numbers it seems that a large number of buyers didn't show up to the start line.
The weather may still be playing a small role and I suspect the bulk of the challenge centres around the attention the major Urban markets have garnered in the national media. There has been a lot of noise around how much the Vancouver market is down with price declines for 10 consecutive months and that the Toronto market has softened significantly as well.
I suspect one of the factors holding back on sales may be the lack of new listings. March of this year was marginally ahead of 2018 and April had the appearance of building listing inventory. My sense is that we didn't see the big run up in listing inventory, at least yet. It will be interesting to see the final numbers next week.
This is not doom and gloom. The number of homes sold this week is significantly lower than last year but the median sales price is up almost 11% to $520,000 for the same size house.
There is a lack of consistency in the market at the moment. We've written about this a couple of times over the past year. Buyers will flock to the market for a couple of weeks, then they disappear for a week or two and I can't pin the blame on any one factor.
What will it take to remove the skittishness in this market?
Mortgage rates have dropped so far this year but that doesn't seem to have instilled confidence in buyers. It's almost humorous in that when interest rates are on the increase, people will flock to the market in order to beat the increases, and yet when rates drop or stabilize, buyers remain wary. It's almost like they are waiting for the other shoe to drop and something negative to happen.
When I look at median sales prices over the past 5 years we've watched values increase by 60% in the Guelph market. Perhaps buyers are thinking that there will be a large pullback in our local market. I'll argue that while our market may be up 60%, the GTA and Vancouver market advanced further than that and wasn't sustainable. Our market may pull back, but I suspect we would have to see a recession overall before that happens.
The interesting conditions continue and we'll have a full update on April in next week's blog.
The median numbers for Guelph and the surrounding townships look like this:
There were 41 homes reported sold last week and 19 (46.34%) sold at or above list. The median Sales price: $520,000 or $366.58/sqft with the median home being 1360 sqft. It took 17 days to get the sold sign on the property and sellers were getting 99.17% of their original list price.
Compared to the same week in 2018 55 homes sold, 26 (47.27%) sold at or above list price. The median sales price was $470,000 or $355.94/sqft for a typical house of 1383 sqft. Last year homes sold in 14 days and sellers received 99.78% of their original list price.
Thanks for reading! If you want to see what properties are selling for, subscribe to our blog to get access to the sales reports for each neighbourhood.
Enjoy your weekend.
Get exclusive access to

Detailed Neighbourhood Sales Reports every week
We respect your inbox. We only send interesting and relevant emails.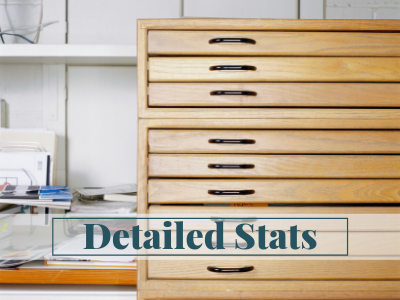 Welcome to the Market Report Blog
Thanks for signing up! Every Friday we'll let you know the blog is live, and you'll get exclusive access to detailed neighbourhood sales reports.
See the Archived Reports